Hi, my name is Jess Joyce
I'm a Toronto SEO Consultant (Search Engine Optimization), & a web developer who's worked with companies including Mashable, Fast Company, Honda, CIBC, Budweiser, Pfizer and for companies from startups to large agencies, optimizing the web for over 20 years now.
I built my first website when I was 15 on Geocities (anyone remember Sunset Strip?), taught my high school class HTML & received a diploma in Multimedia from Fanshawe College (that's now a full on web development program).
I ran a successful silverchair fan site for many years as a huge music fan. I've been a Last.fm user since 2005 and if I'm not talking about SEO on any social network, odds are there's something music-related going on. My latest project is Historical Heardle, an up-to-date list of the songs played on Heardle, the Wordle for music!
I'm a SEO Consultant, a co-founder of Shop Critique, have mentored at Ladies Learning Code, teach SEO at Camp Tech, have volunteered with Women and Color, speak at events around Toronto on SEO/web topics and love to connect with anyone in technology throughout the world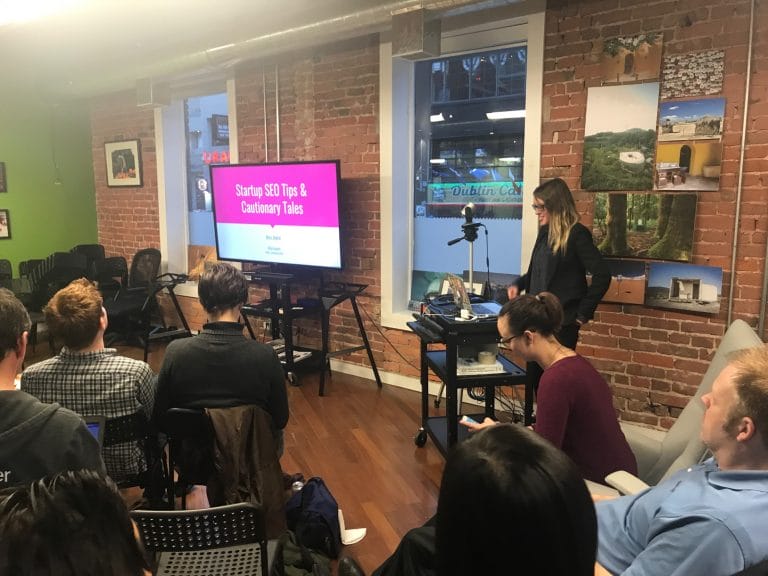 In the SEO world, I've ranked a lot of small businesses over many years. Ranked a startup for "content marketing software", have helped a large cannabis website that was being held back because of indexing issues, created the growth plans for a privacy company that's still going after my time there, and advised on a web stories project that was incredible to see, have migrated over 50 websites, worked on countless American pharma websites implementing schema and working on technical issues, applied SEO  optimizations to Shopify websites, and I'm just getting started.
In 2016 a wonderful former co-worker and friend Amanda and I started a Slack group for Women in Technology as we've worked with a lot of amazing women throughout the years.
If you're a female-identifying, genderqueer, gender fluid or non-binary person working in tech, interested in tech or at any level – even looking to join the world of tech – join us!
Also, I'm a long-standing member of a few wonderful SEO slack communities including Women in Tech SEO & Traffic Think Tank.
At my core, I'm fascinated with technology. Where it's going, how it's put together, how we use it and overuse it but mostly how we interact with it. You can always catch me checking out the latest gadget or signing up for some tool that analyses the websites you visit per day and recommends new niches to hang out. Ok, that does exist – doesn't it?
I also enjoy taking pictures so if you're into following along then I post the good ones on Instagram or check out a small selection on Unsplash that you can use on your own projects!
I've been very lucky to work with some wonderful humans throughout the world and you should too!